Overview
Many elderly are living by themselves, without access to care or transportation—or due to the pandemic, isolated from family and friends. Senior citizens and the disabled elderly can benefit from the safety and connection that smart home systems provide, but they may not understand smart home technology, nor have loved ones or tech-savvy help to install or operate connected devices.
Timeline
3 days (Jun 2021)
Team
1 student
Role
Ideation, Interaction design, UI design
Tools
Adobe XD
How can we help individuals with special needs install, operate, or share devices and information to improve their surveillance, communication, temperature, and entertainment around the home and their neighborhood?
Design Prompt
We were challenged to provide peace of mind and help people install, operate, or share devices and information to improve their surveillance, communication, temperature, and entertainment around the home and their neighborhood. Design an inclusive third-party mobile app for a specific persona with special needs to help bridge the technology gap.
 01 — Research Process
Problem Space
1 — Ensure device notifications / alerts aren't overwhelming

2 — Guarantee ease of use for senior citizens

3 — Easy upkeep of device health and maintenance

Competitive Analysis
Due to the limited timeframe for this project, I stuck to a competitive analysis for initial user resarch. Initially, I looked at three main categories of mobile applications to determine why this problem had yet to be solved. I found three main categories of mobile applications that addressed issues of public safety, remote device control, and home security, each with their own strengths and weaknesses.

Brainstorm
After identifying problems via competitive analysis and research, I set out to outline and organize the problems at hand, brainstorm goals for the project, and think of as many features as possible that could address these problems and goals.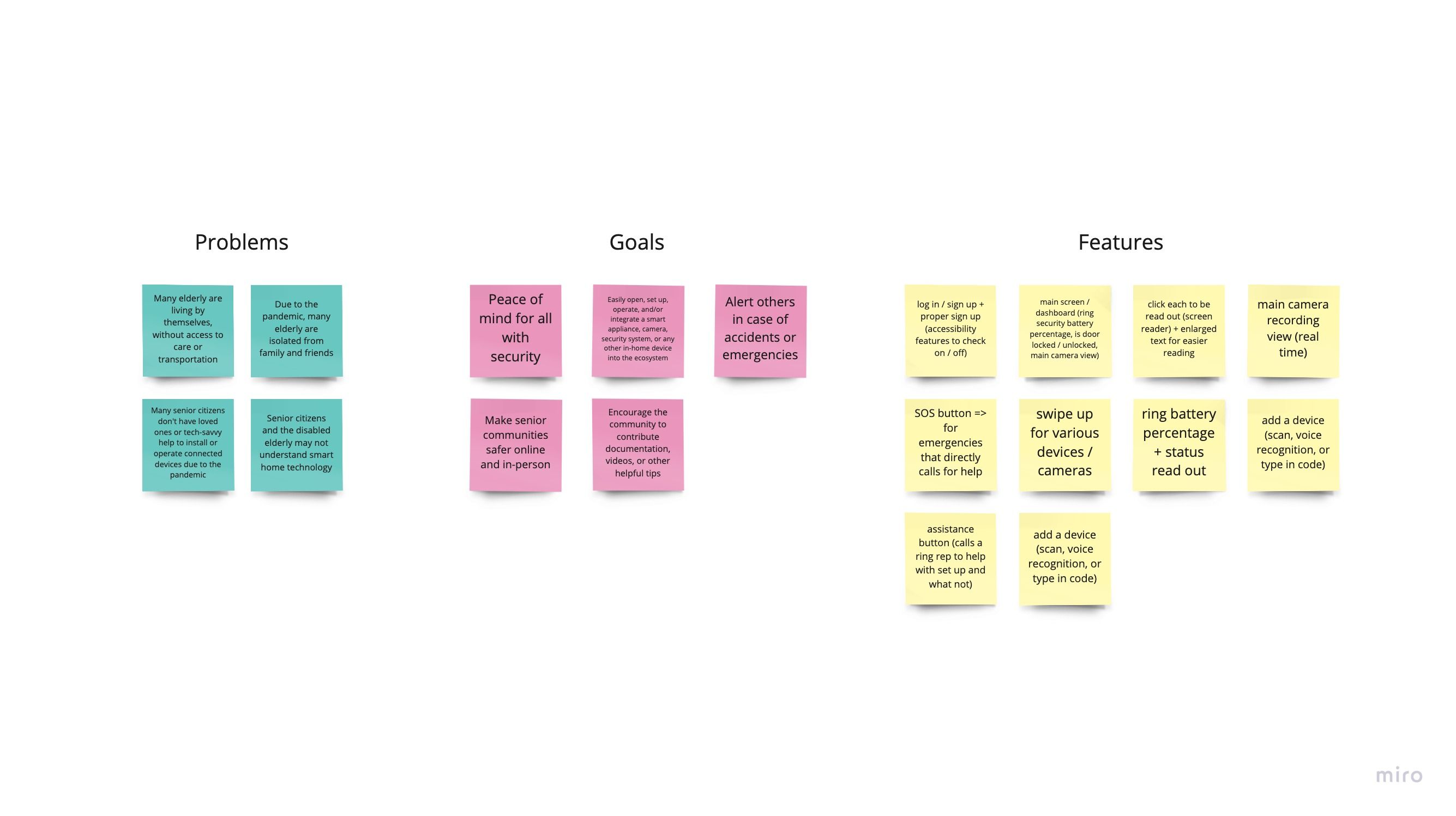 02 — Design Solution

Allowing users to keep track of their device health, easily customize alerts to ensure they aren't overwelming, and only view live camera streams when necessary
Project Goals & Features

1 — Track and manage device in one place
1. Easy-to-access status main page with Ring security device battery percentage and alerts

2. Integration with Ring appliances via a real-time camera recording view

3. Large icons denoting battery status, signal strength, and notifications

2 — In-app live customer and emergency support
4. SOS button for emergencies to call emergency response

5. Assistance features to call a live representative for help for setting up devices and more

3 — Increased accessibility
6. Accessibility features and customizations for ease of use

7. Text-to-speech enabled for each major feature

Dashboard
1 — Distinguishing colors for each section
2 — Text-to-speech audio for verbal summaries of each section
3 — Large icons to indicate device health


User Scenario
Barbara is a senior citizen who lives by herself. Her children recently helped her install Scope onto her smartphone device after installing a Ring device onto the porch of her house. Her family is concerned for her safety, as lately she's been suffering from mobility issues and the neighborhood she lives in has recently been reporting package thiefs. Barbara likes that she really only has to access this dashboard screen when she wants to see everything about the Ring device near her front door. She can make sure the battery life of the device is strong, that she receives safety alerts but not motion alerts, as the neighborhood cat seems to trigger motion alerts all the time, and that she can check who's outside her door without having to move too much.

Dashboard - Device Health
1 — Large icons to indicate device health
2 — Text translating the icons to battery status and health for better understanding


User Scenario
Barbara likes that she can navigate to check the health of her Ring device by simply tapping on the Device Health module, which expands with a text summary of how her device is doing. Because she is not familiar with the idea of wifi "bars," the text that indicates whether or not the device's signal strength is strong makes her feel relieved. Barbara also likes how these two pieces of information are displayed in three ways, by images, by text, and by audio via the text-to-speech button.

Dashboard - Alerts
1 — Ensures user isn't overwhelmed with notifications
2 — Clear toggles to turn alerts on or off


User Scenario
Barbara finds that because she often doesn't have any unexpected guests, she doesn't wish to have device alerts on, which enables alerts sent to your device whenever someone presses the front button on your device. In addition, she found that she was overwhelmed with motion detection messages everytime the neighborhood cat would trigger the motion sensor on her device. Thus, she decided to turn off motion detection alerts. However, because she lives alone, she wants to make sure the the battery on her device is always replaced in a timely manner and that if there are any alerts concerning her safety that she is informed. Thus, she has battery and safety alerts turned off. Barbara likes this customization, as she only received the notifications she wants to receive.

Live Assistance
1 — Easy tap to call a live representative for help for setting up devices and more
2 — Large button on overlay screen to make sure representative isn't called on accident


User Scenario
While her family helped her set up the device, Barbara doesn't know how to replace the battery of her Ring device. Thus, she found it extremely helpful that there is a way to call a Scope representative to talk her through the battery replacement process. The icon indicating that a Scope representative is on-call 24/7 makes her feel reassured and safe in her home.

Community Safety
1 — Easy map with nearby indicents as reported by verified neighbors
2 — Ability to tap on map to see a quick summary of the incident


User Scenario
Barbara likes that she can keep track of any incidents withint 5 miles of her home. These incidents are reported incidents from local law enforcement and similar trustworthy organizations, making sure that the information she views is reliable and factual. Barbara likes that she can easily see the density of incidents around her via the main map, but also tap to see a quick one sentence description of the incident along with a more specific location if she wishes.

User Flow
I separated the overall flows into 6 stages. Onboarding for user data collecting, an dashboard page for device health and alerts, a user profile with basic information and an emergency contact, the ability to quickly call a live representative, a community map with nearby incidents as reported by local law enforcement and similar organizations, and accessibility settings. These 6 stages translated to onboarding plus the five main navigation screens.

03 — Design Process

Sketches
Until I reached the final design, I created several sketches by hand to get a general idea of how the main home tab should look like. As the home tab is where the user starts, I wanted it to be the main dashboard for any other screen--a one stop shop for a majority of the features needed by the user.

Device Management
Device Management - Add a Device
Profile
SOS Call
Accessibility Settings
Visual Design
When deciding on the style of the UI, I considered the product environment that this application would live in. I assumed that this product would likely need to fit within brand of Ring, so I decided to isolate the colors to white, grey, black, and soft accent colors that corresponds to the colors of the brand. I decided to go with a more relaxed version of this accent color, a periwinkle blue, both to add undertones of safety and calm, while giving the application a modern feel.

Furthermore, I chose Avenir as the font family, as it is clean and friendly while being exceptionally easy to read on mobile devices. For an application that will be used for people under higher mental stress, I made it a priority to ensure that the interface felt inviting to the user.
04 — Takeaways

Next Steps
The first of many

This was my first Adobe Creative Jam and first UX/UI design challenge. I had a lot of fun applying previous knowledge from other Adobe Creative Cloud applications and Figma to develop this prototype. I also was introduced to the design process, Adobe XD features, and Amazon x Ring product design.
Less is more

In trying to solve as many identified problems, I found myself continuously adding features, detracting from the main goal of simplifying an app for the target user audience group, senior citizens who may not be super trusting or familiar with technology. Thus, in the future, I hope to continue to remind myself of the user and focus on honing in on three main goals with the purpose of completely addressing them, rather than trying to solve as many problems as possible. Quality > Quantity!
User research is the foundation for everything!

During the challenge, I felt intimidated and was not too familiar with user research and as a result hope to continue learning how to better utilize my time and resources to focus on the target audience and their needs. I realized how good user research and a productive brainstorming session can help build a solid foundation for the later stages of the design process.